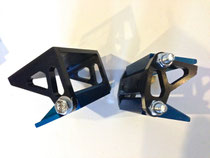 Grad frisch aus den USA eingetroffen: 3" Punk Rocker Trucks
Damit wird Euer Sub erst richtig lebendig! Die hintere Double-Pivot Truck erlaubt es dem Sub auf ganzer Länge zu flexen. Ausserdem werden dadurch Inserts und Hardware von Scherkräften entlastet. Gewohnt präzise Passung, niedriges Gewicht (280g der Satz!) und eine schöne Anodisierung zeichnen diese CNC grfrästen Trucks aus.

Fresh from the USA: 3" Punk Rocker Trucks
These make your sub vivid and breezy. The rear double pivot truck allows your sub to flex freely on its whole length. Also it drastically reduces or eliminates shearforce to your inserts and hardware.
Precise and snug fit, low weight (280g the set!) and beautiful anodizing mark these CNC machined trucks.