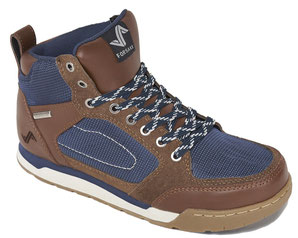 FORSAKE is a rather new company, financed through a Kickstarter Campaign end of 2012. You can find detailed background info about their story by using Google. Their philosophy is to offer boots with lots of the advantages of outdoor boots, especially waterproofness combined with skate-/streetstyle looks.
Before getting into the details about the Clyde, I want to give some background info for snowskate beginners. When looking for a snowskatable boot I look for:

comfort, warmth, water resistance 

lateral stability 

boardfeel + grip

Snowboard- and heavy hiking or mountaineering boots don't work due to a too stiff sole and non-existant boardfeel. Regular skateshoes miss waterproofing and insulation and you'll freeze your toes off.
So far I had always to make compromises with my snowskate shoes/boots and some of these compromises work very well in certain quite narrow conditions. I still insist that the VANS Sk8-Hi in their "winter" version are the best option for unparalleled boardfeel in warmer spring temperatures. Yes, I can waterproof the suede leather with massive amounts of SnoSeal but that still doesn't change their weak insulation. And even with heavy crew SmartWool socks the cold will creep into your toes and soles at some point in temperatures sub -4°C. (I guess the new MTE versions might be a bit better but not by much given their thin outher shell.)
My other option for colder conditions are the Northface Back To Berkeley '68. Their approach is completely opposite from Forsake: They are targeted at city people to sport an outdoor look while offering running shoe comfort. Yes, they are warm, waterproof and have an awesomely grippy outersole. What they fail at is lateral stability. Though they feature a stiff plastic enforced heel, the BTB'68 midsole is that of an 80's running shoe: Super soft foam in a trapezoid profile. It is very mushy and compromises lateral stability and boardfeel. I did improve it a bit by spiking the heel part of the midsole with 3mm carbon rods through the four crosswise channels (supposedly there to further soften up heel impact while walking).
Back to FORSAKE: The "HIKER" would have been my first choice due to it's higher ankle and a bit more detailed outer sole threads/lugs. I couldn't get it here in my size, so the next best choice was the "CLYDE".
SIZING: ... got me a bit confused. I have an european size 45.5 and most shoes that I want to wear with thick socks I usually buy in 46 = usually US12. Forsake now places the US12 as a Euro 45 and US13 as Euro 46. I finally decided to order the US12, hoping that the US sizing was true and not the Euro one. I landed on spot! 
First I was afraid that it could be too small after all, because while slipping in with thick socks, it felt VERY snug. But I can confirm that the US sizes seem to be true. The US 12 certainly ISN'T a Euro 45 but AT LEAST 45.5. Even with relatively loose lacing and thinner (tennis style) wool socks I never felt like swimming around in the shoe. With heavy crew Smartwool socks and tight lacing I really feel "locked in place" but in a supportive and never too tight way.
COMFORT: ... is where the CLYDE surpasses ANY other "outdoorish" shoe or boot I ever owned. Right after getting them I headed to Munich for four insane days of ISPO, worlds biggest sporting goods tradeshow. That was four days of getting up at 6:30, hitting the fairgrounds at 8:15, standing at our booth (with wefunk and RAM) and the occasional strolls to other halls checking out the competition and other brands. Outside temperatures in the morning were down to -10°C and inside around 20°C. Show closes at 6PM but partying with other exhibitors it always got around 8PM before I could leave. On Saturday night we went to a funk party (and yes, I did quite some wicked moves!) and I got home at 4AM (to get up too late at 7:30 again). This was the only time I had a SLIGHT sole burn the next day!!! But it was by far the most comfortable ISPO I EVER did!  I'm sure the Ortholite PU inner sole plays a big part in this due to good dampening and rebound. It doesn't compress over time. I can't emphasize enough how comfortable these shoes are. Almost forgot: They are really light as well!!!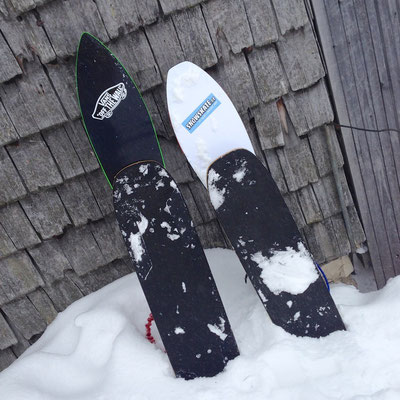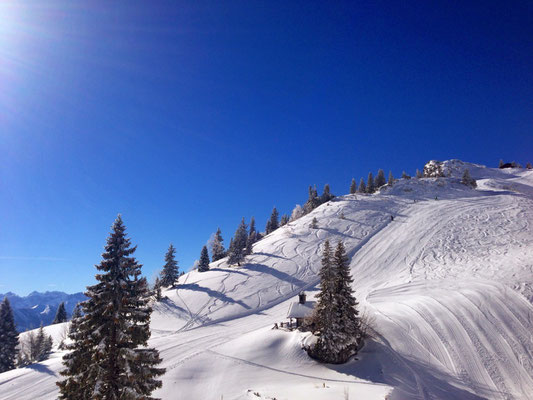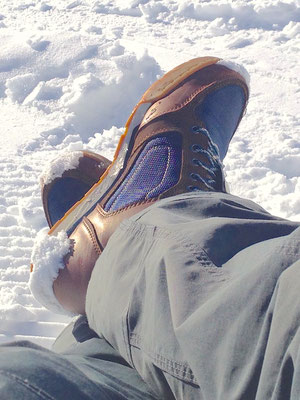 WATER RESISTANCE, WARMTH: After ISPO and while still being in Bavaria I headed straight to Lenggries to Snowskate the Brauneck, one of Munich's favourite "backyard mountains". First day started with overcast sky and fresh pow from the day and night before and temperatures around -7°C. To get accustomed to the resort we started with our everday wefunk 108 subs. Fast and super grippy groomers and ocassional slashes into the pow in the slope banks.
We then decided to get our bigger pow blades, because we spotted enough untouched white gold that was worthy to whip out the big toys. Moments after we did our first off-piste runs it started to DRIZZLE while temperatures were still around -5°C. Within minutes we had an ice crust not only on the pow but also on our clothes and goggles. When wiping didn't work anymore I had to actually LICK off my goggles and GNAW off thicker ice at the lower rim. At the end of the day our clothes were covered in a thick ice crust, frozen stiff! On the last run down I had to take off the hood becuase it no longer moved with my head and the goggles over it. (I bite myself for not taking pics of this.)
The second day was a perfect bluebird day with temperatures between -4°C and +2°C in the afternoon. Not much to say about this day. See the pics and weep! =)
I can absolutely attest that my feet stayed WARM and DRY on ALL days all day long!
In that regard the CLYDE is absolutely on par if not better than the Northface Back To Berkeley '68 (with additional SnowSeal treatment). In the pow I got some snow into the low cut heel but with the right (wool or better: Smartwool!) socks this isn't really a big issue. I think the higher cut "Hiker" would have solved this completely.
Please note that every system is always just as good as the weakest part. Wearing a cotton T-Shirt or cotton tennis socks will make the best functional outerwear or shoes pointless if they get soaky with sweat.
WATER REPELLENCY: While the membrane of the CLYDE does an outstanding job to keep your feet dry and the padding/insulation is enough to keep your feet warm, the water repellency of the outer materials differs quite a bit: The full grain leather parts completely stayed dry while the suede parts (especially where constantly moved) got a little bit wet, the Cordura parts got completely SOAKED. As said, my feet stayed dry and warm the entire time so this isn't a big issue. However I think the HIKER with it's full grain leather part above the toes (or the mostly full grain leather PILOT) might be the better choice when deep snow is where you will use them mostly.
STYLE: ... is always debatable. I simply love them. They don't exactly look like skate sneakers but also not like mountaineering or trekking boots. Sporty and stylish look without being flashy, perfectly suited for ISPO tradeshow and the afterpartys. The colorway works well with most of my regular winter/fall clothes, brown or loden colored corduroy pants or the occasional times when I wear Jeans (not so often).
I really hope that FORSAKE keeps it this way and doesn't make the mistake of quartely product/style cycles.
If I would want to sell them in my store I would need to be sure that I don't have to put them on sale every few months when a new style hits the market.
Now the most important bit - DO THEY SHRED???
Yes, they do! Their sole is flexible enough and not too thick to allow for acceptable boardfeel (and as a kid of the 80's I'm still used to the hyper sensitive wafflesoles of classic Vans). The thread/lugs of the outer sole definitely could be a bit more detailed (and I plan to recut the threads with a utility knife) but (and here comes the surprise) they worked really well with 5mm foamgrip only.
With XtremeGrip only I could shift my stance a bit too much for my taste. (I always had the feeling that the lugs were standing inbetween the spikes.) It was not that I slipped off the deck but that slight shifting was a bit annoying in the steeper and icier parts of the slopes. But Xtreme on foamgrip also worked very well. 
Though the CLYDE is a mid-cut model the lateral support was sufficient for my taste and absolutely superior to my Northface boots. FORSAKE has found just the right duro for their midsole to keep it supportive enough laterally while the the pre-bent sole is soft enough to roll off smoothly. I have shunned a lot of skateshoes which had far stiffer soles. 
CONCLUSION: The FORSAKE CLYDE is an awesome mid cut boot, absolutely snowskatable but can also be worn off mountain with style. It is comfortable beyond my expectations and when FORSAKE say it's waterproof they mean it. The comfort, padding and sufficient insulation also makes it my new winterboot of choice. Other people have reviewed the shoe the other way around but I'm sure that it will be too warm for me to wear in the summer (but then I'm skating in low cut Vans anyway). I don't know of any other shoe or boot that would have allowed me to do 14hs+ tradeshow-days AND sub zero temperature snowskating all in one week. 
I now REALLY want to test the HIKER as well because I'm very sure that it will address the very small issues I had with the CLYDE: Namely a higher cut heel and a slightly more detailed outer sole.
Well done Forsake! Even if not targeted at snowskaters.
Update: FORSAKE are now available here at snowskate.de.
Link: www.forsake.com