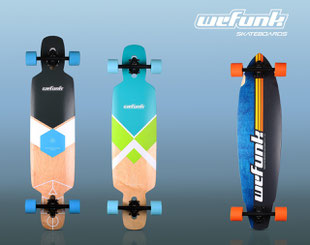 wefunk hat wieder ein kleines aber feines Longboard Lineup rausgebracht.
"Back To The Future!" ist das Motto.
Es gibt den sehr vielseitigen und bewährten Twintip Shape in zwei Längen und nunmehr in der 3. Auflage und im Detail verfeinert. Das "Stripes" ist etwas Besonderes: Ein Surf-inspirierter topmount Speedcarver/cruiser mit einem wirklich sexy shape und Retrografik.
Ab sofort im Shop in der Longboardecke!
wefunk just released a small but fine longboard lineup. "Back To The Future!" is the motto.
You'll recognize the proven wefunk twintip shape in it's 3rd variant, carefully finetuned and in two different lengths. The "Stripes" is something special: A surf inspired speed carver/cruiser with a really sexy shape and retro graphics. Available now in the longboard corner!